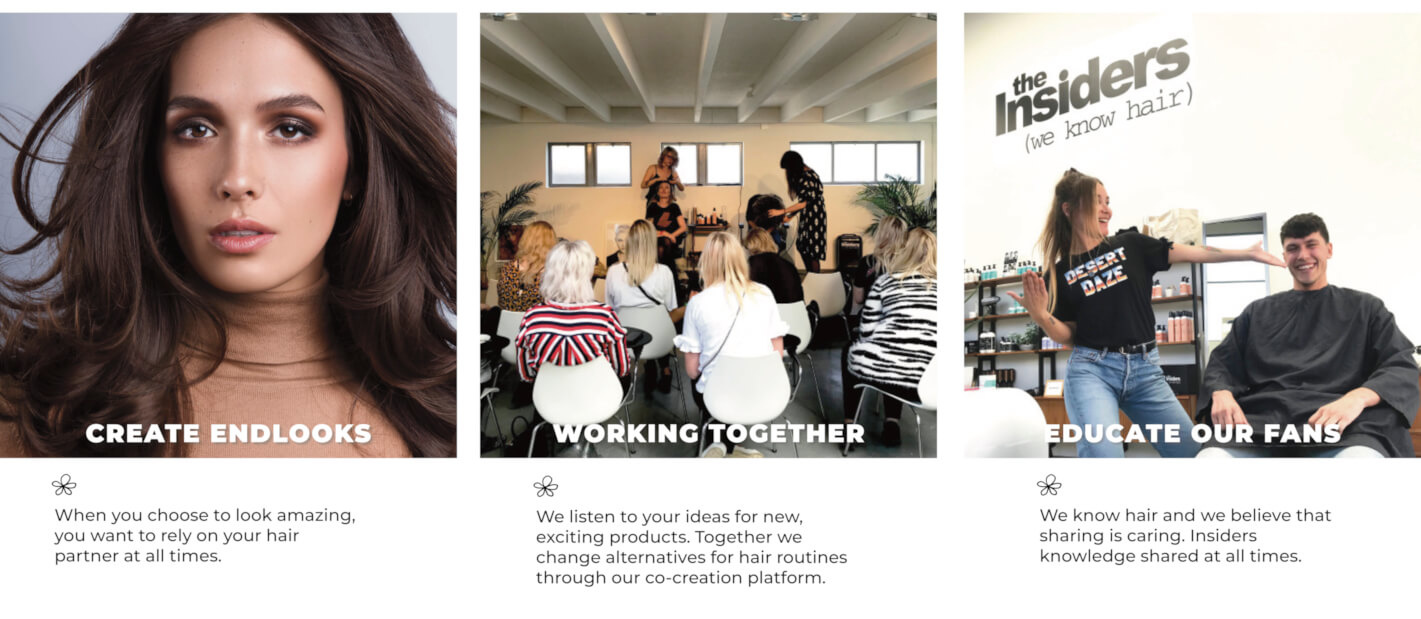 INTRODUCTION
Welcome to The Insiders. We see ourselves as open minded, free spirited people. We are here to help you and sell the products you love. We know the hair business is pretty opaque. With us, there is clarity, equivalence, honest claims, natural visuals, reality, transparency, people first and optimism. We will be 100% open and honest with you at all times. We will be your reliable hair partner. Our goal is to help you create the end look you always wanted and to improve the health of your hair. We hope you feel attracted to our culture and responsibilities.
READ OUR FULL STORY BELOW
Create Endlooks
Getting great hair shouldn't be confusing or complicated. We don't have time for that – and you shouldn't either. We make it as easy as possible for you to select the right product based on the look or benefit you want. And when it comes to your hair, individualism is everything. We make our product range as inviting as possible to inspire you to challenge your routine and enhance your own unique, personal style. Oh, and we never break a promise, so you can rest assured that our products are simple to use and extremely effective.
Ruthless Testing
We should explain something about our product testing, because it's pretty awesome. Every new product we develop undergoes a ruthless testing procedure, carried out by our network of experts. Every creation is tested, refined, tweaked and tested again. Where other brands are satisfied and go to shelf, we continue the process until every single member of our team is 100 percent satisfied. Do our lab people think we're a pain in the ass? Yep. But we don't care. We won't make concessions on product performance.
Respect For Hair
Hair is the most amazing natural material there is. There are many other things that define your self-image, but none is as integral as your hair. So the products you choose are essential in creating, amplifying and shaping your own individual style. We want to empower you to create the gorgeous hair you want, whether that's pretty or edgy, voluminous or defined. But because we know how special hair is, we want to do even more than that. We also want to help you nurture your hair, nourish, strengthen and protect it. So wherever possible, we add protective elements to our products, such as UV filters, heat protectors and hydrating, soothing and strengthening natural ingredients.
Balancing Nature And Technology For Ultimate Performance
We pack our products with loads of goodies, like essential oils, proteins, vitamins and minerals. By adding the best natural active ingredients to superior quality product formulas, we can guarantee a long-lasting, professional finish. All our products are cruelty- and paraben-free. And yes, we are against animal testing.
Working Together
The Insiders team of hairdressers consists of many. From celebrated veterans to talented newbies. Everyone brings their own perspective, experiences and ideas to the table. We share our knowledge in an honest and authentic way. We never forget the old-school techniques but always approach each new product with a clean slate, putting aside all standard assumptions and preconceptions. All our products started life as a creative idea from one of our expert stylists. Good to know: you don't need to be a pro to share your thoughts about product innovation. Go to: https://www.insidershair.com/what-is-your-idea and share your idea.
Our Partner Philosophy
At The Insiders we don't just supply salons with products. We want to work together with you, in a long-term partnership that will help to enrich and add value to your business. Through our partnership program we will help you to build a successful business and enable you to discover your true potential. We want to grow together and our partner philosophy is based on a 'win-win' at all times.
Educate Our Fans
We know hair and we believe that sharing is caring. Insider knowledge shared at all times. You can find us on events, festivals and you can also read about us in many different magazines. If you are a business partner, we have a special education program that we would love to share. For all our fans that are looking for some Insiders information; you can find lots of product tips on our product pages.