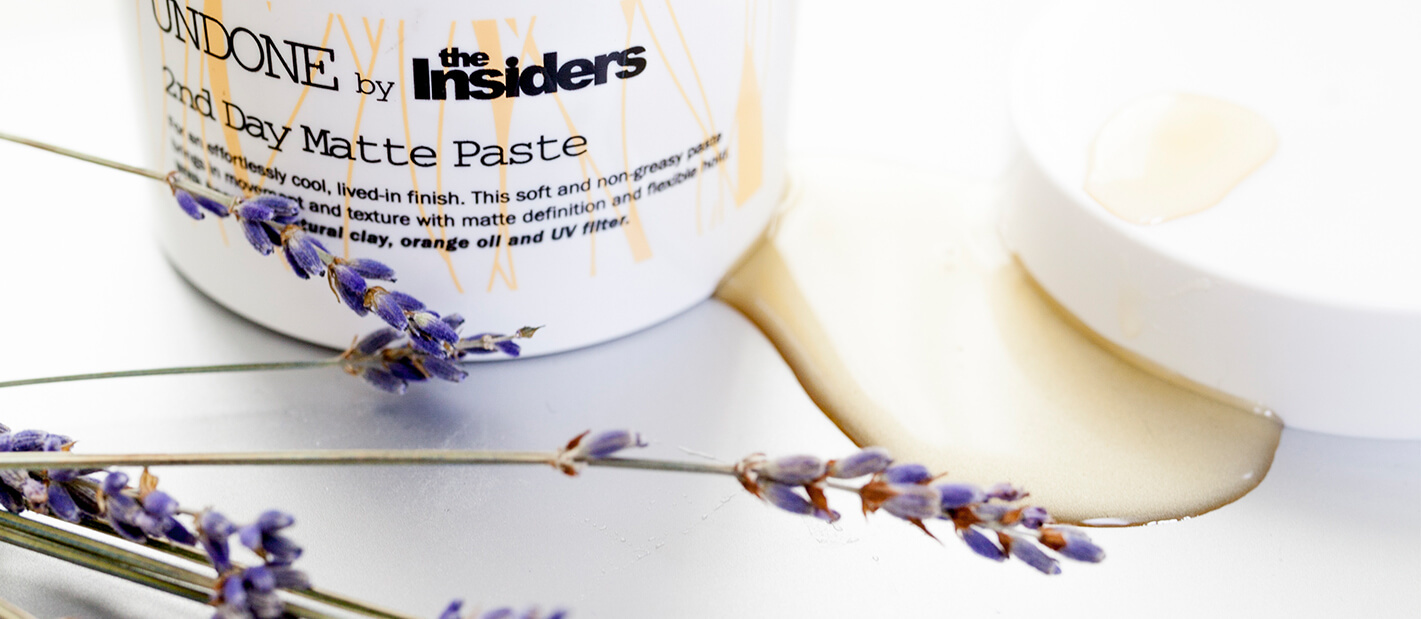 OUR MOST POPULAR INGREDIENTS
We combine the best of science with the best of nature, to create highly effective products and ensure optimal results. It goes without saying that each ingredient has a purpose and is selected with the utmost of care. Let us give you an impression of some of our favorite popular natural active ingredients:

Lavender oil
Lavender has been appreciated as an herb for over 2000 years. It has an abundance of qualities for your mind and body and can work miracles on your hair. We use lavender essential oil, which is extracted from the flower spikes of the lavender plant through steam distillation.
We love it because it's:
relaxing and reviving
a powerful moisturizer for hair and scalp
beneficial for promoting hair growth, as it improves the blood circulation
well-known for its antiseptic properties, which can soothe a dry scalp
Spotted! You can find lavender oil in our Undone collection.
Avocado oil
Known as South-America's sacred fruit, avocado renowned for its moisturizing, healing and regenerating properties. It's oil is rich in essential fatty omega 3 acids, protein, lecithin and potassium and contains loads of antioxidants as well as vitamin A, D and E.
We love it because it:
is easily absorbed into the cuticle and repairs your hair intensively
moisturizes without making your hair feel greasy or stiff
doesn't weigh your hair down, leaves it bouncy and voluminous
prevents hair loss and even activates hair growth
Spotted! You can find avocado oil in our Curl Crush & CNTRL collection.
Wheat
Wheat is a superfood, but did you know this grain has amazing qualities for your hair as well? We love using both wheat germ oil – the oil that is extracted from the germ of the wheat kernel – and wheat protein in our products. As we like to put it: no grain, no gain.
Wheat germ oil:
contains a lot of vitamin E and a polyunsaturated fat called squalene, which is easily absorbed, conditions and protects your hair
boosts cell growth and stimulates blood circulation in your scalp, reducing hair loss and making your hair grow faster
improves hair elasticity
Wheat protein:
fills up tears in the cortex of each strand of hair, making your hair fuller and stronger and also softer
improves moisture levels and elasticity, making it a great ingredient to create lustrous and bouncy hair
Spotted! You can find wheat germ oil in our CNTRL collection and wheat protein in our Undone collection.
Sunflower extract
Sunflower seeds are filled with a nutrient rich oil that's low in saturated fat and full of vitamin A, B, C and colour-protecting vitamin E. On top of that, it's loaded with various minerals, like copper, zinc and magnesium, and omega 9 acid.
We love it because it:
softens brittle hair, prevents hair loss and stimulates natural hair growth
creates a protective shield around each strand of hair and protects against damaging UV rays
moisturizes and conditions your hair and makes it soft and shiny
is light and easily absorbed, yet penetrates deep into the shaft of your hair for optimal nourishment
Spotted! You can find sunflower extract in our Colour Love & CNTRL collection.
Orange oil
In Greek mythology oranges were known as the 'fruit of the Gods'. They are extremely beneficial for your health and beauty. It's the oranges from Valencia that we like best, and the essential oil that is extracted from their peels. It has inflammatory properties and is loaded with antioxidants and vitamin C.
We love it because it:
absorbs oil, reducing greasiness
conditions the scalp to help reduce hair loss and premature graying
provides deep hydration, perfect for quenching dry and brittle hair
soothes and balances your scalp
Spotted! You can find orange oil in our Undone collection.
Cottonseed oil
Cottonseed oil is extracted from the seeds of the cotton plant and has many beneficial properties for your skin and hair. It's made up of 35 percent oleic acid and 50 percent linoleic acid, both fatty acids that are known for building up the scalp's protective barrier. It is light and non-oily and doesn't weigh your hair down, making it the perfect ingredient to get healthy, voluminous hair.
We love it because it:
smooths an strengthens the hairs cuticles, making your hair shinier and frizz-free:
contributes to a healthy scalp by stimulating blood circulation in your scalp, increasing the supply of
oxygen and nutrients fundamental to hair strength and growth to the follicles
fights off free radicals, that can have a thinning and damaging effect on your hair
Spotted! You can find cottonseed oil in our Glamorama and Curl Crush collection.
PHENOMENAL FRAGRANCES
The Insiders don't do things by half. When it comes to feeling beautiful and confident, an authentic fragrance is the indispensable finishing touch. A scent that enhances the user experience, whilst being subtle enough to avoid conflicting with the wearers own perfume. To complete each collection, we created for each its own unique fragrances:
UNDONE COLLECTION – 'LUSH LAVENDER'
Fresh yet sensual, with notes of calming lavender and Valencian oranges.

CNTRL COLLECTION – 'VANILLA BEACH'
A gentle vanilla scent with heart notes of peach, rose and frangipani blossoms.

CURL CRUSH COLLECTION – 'WONDER EARTH'
Feminine and earthy, with flowery, woody and mossy accents. It's heart notes are magnolia and lily of the valley.

COLOUR LOVE COLLECTION – 'HAWAIIAN DUSK'
Fruity and tropical but also sensual and musky. With notes of jasmine, coconut, green apple and grass.

RESCUE COLLECTION – 'BALINESE GARDEN'
Sweet, floral, musky and exotic aromas, with notes are frangipan, jasmin sambac and vanilla flower.

GLAMORAMA COLLECTION – 'FLEUR VAVOOM'
This fragrance is subtly sweet and fruity, yet elegant. Its heart notes are jasmine, peach, plum and strawberry.